Dr. Destenie Nock Wins 2023 George Tallman Ladd Research Award
The Ladd Award is awarded to a faculty member within the College of Engineering at Carnegie Mellon University in recognition of outstanding research and professional accomplishments
VANCOUVER, BC, October 17, 2023 – DevvStream Holdings Inc. ("DevvStream" or the "Company") (CBOE: DESG) (OTCQB: DSTRF) (FSE: CQ0), a leading carbon credit project co-development and generation firm specializing in technology-based solutions, is pleased to announce that Dr. Destenie Nock has been selected as the 2023 winner of the George Tallman Ladd Research Award from Carnegie Mellon University in recognition of her outstanding research contributions to advancing scholarship and influencing real-world practices in the areas of energy poverty, energy transition, and social sustainability.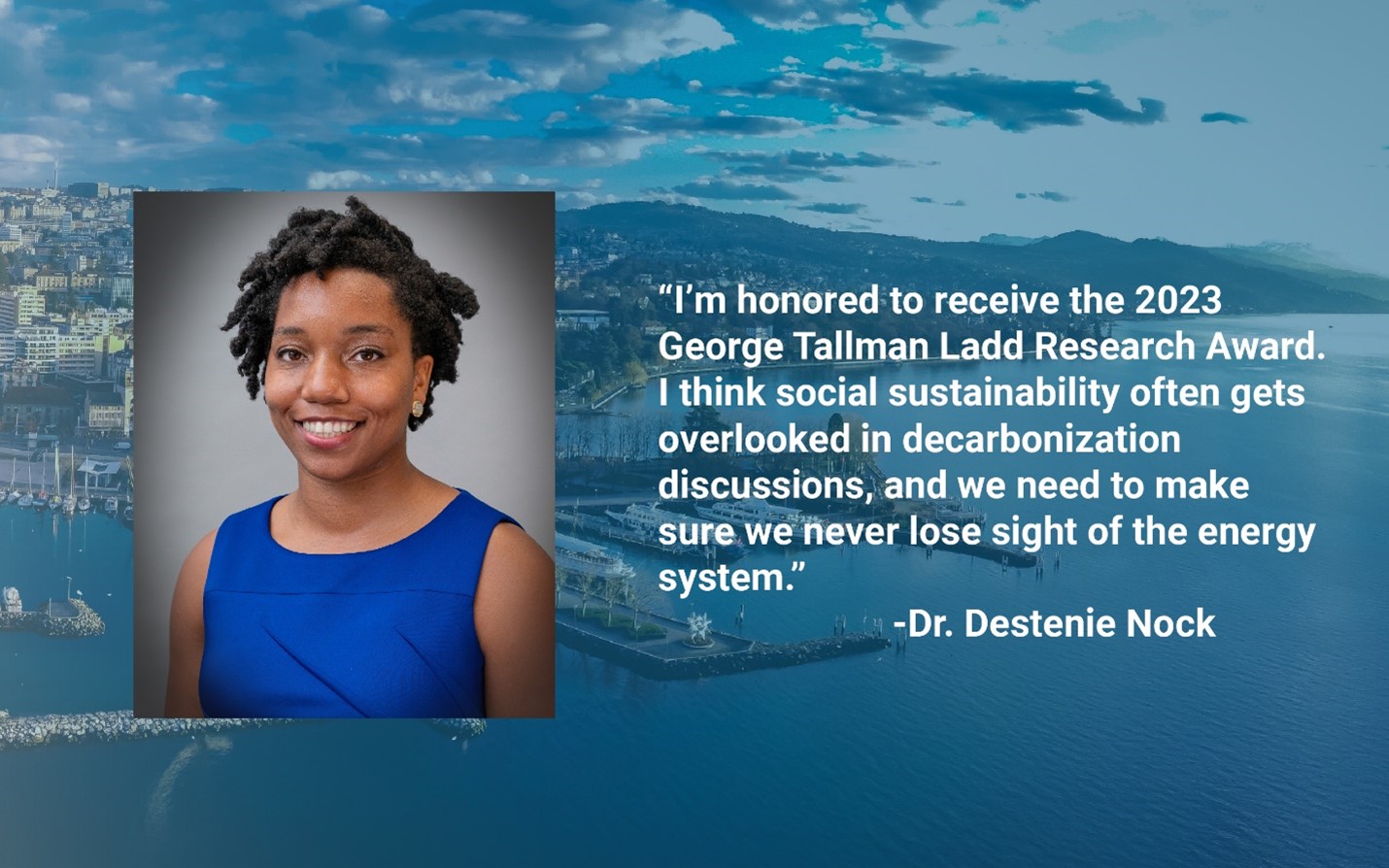 Dr. Nock's pioneering work on energy transition is founded on the fundamental premise that an energy system dependent on fossil fuels poses a severe threat to both human health and the environment—and yet a transition to alternative energy sources does not guarantee that the resulting benefits will be distributed evenly throughout society. Guided by this principle, Dr. Nock has focused her energy transition research on accurately identifying those communities that may bear a disproportionate burden during the shift to a fully carbon-neutral energy grid. A key result of her research has been the development of a comprehensive framework for assessing air pollution distribution parity, which serves as a valuable tool for policymakers facing the complex challenge of balancing economic, environmental, technical, and social considerations during the decarbonization process. Dr. Nock and her team also conduct research on energy poverty, using regression models along with household energy data to identify the communities most at risk of climate-related illnesses such as heat stroke and hypothermia during the transition to cleaner forms of energy generation.
"I'm honored to receive this award," said Dr. Nock. "I think social sustainability often gets overlooked in decarbonization discussions, and we need to make sure we never lose sight of the energy system."
For more information on Dr. Nock and her work, please visit
https://destenienock5.wixsite.com/destenienock or www.devvstream.com.
About DevvStream
Founded in 2021, DevvStream is a technology-based sustainability company that advances the development and monetization of environmental assets, with an initial focus on carbon markets. DevvStream works with governments and corporations worldwide to achieve their sustainability goals through the implementation of curated green technology projects that generate renewable energy, improve energy efficiencies, eliminate or reduce emissions, and sequester carbon directly from the air—creating carbon credits in the process.
On September 13, 2023, DevvStream and Focus Impact Acquisition Corp. (Nasdaq: FIAC) announced that they have entered into a definitive Business Combination Agreement for a business combination that would result in the combined Company (DevvStream) to be listed on the Nasdaq Stock Market under the ticker symbol "DEVS".
On Behalf of the Board of Directors,
Sunny Trinh, CEO
DevvStream Media Contacts
DevvStream@icrinc.com and info@fcir.ca
Phone: (332) 242-4316
Disclaimer
This news release contains forward-looking statements, including statements that are not historical facts. All statements other than statements of historical fact included in this release are forward-looking statements. The reader is cautioned that assumptions used in the preparation of any forward-looking information may prove to be incorrect. Events or circumstances may cause actual results to differ materially from those predicted, as a result of numerous known and unknown risks, uncertainties, and other factors, many of which are beyond the control of the Company, and which are described in the Company's public filings available under its profile at www.sedarplus.ca. The reader is cautioned not to place undue reliance on any forward-looking information. Forward-looking statements contained in this news release are expressly qualified by this cautionary statement. The forward-looking statements contained in this news release are made as of the date of this news release and the Company does not intend to update any of the included forward-looking statements except as required by Canadian securities laws.