DevvStream Announces Multiple Advancements in its Oil and Gas Wellbore Sealant Program for Methane Abatement and Carbon Credit Generation
February 9, 2023
DevvStream's investment in its technology partner TS-Nano has resulted in the sealing of 7 wells with a high rate of success
DevvStream has also filed a provisional patent to enable a program approach to aggregate emission reductions generated by plugging methane leaks in abandoned wellheads throughout the U.S. and Canada
VANCOUVER, BC, February 9, 2023 — DevvStream Holdings Inc. ("DevvStream" or the "Company") (NEO:DESG), a leading carbon credit investment firm specializing in technology solutions, is pleased to announce significant initial developments in its future methane abatement offset program (the "Offset Program") centered around the high-volume plugging of abandoned oil and gas wells with next-generation sealant technologies developed by its partner TS-Nano. The Offset Program has completed the sealing of 7 wells with a high rate of success, generating impermeable cement plugs and closing off microcracks in existing cement barriers, which prevents the migration of CO2 and methane to the surface. These successful tests represent critical progress toward the Company's goal of using its Offset Program to address the estimated 3 million decommissioned oil and gas wells in the U.S. and the estimated 225,000 in Canada, all of which typically emit considerable quantities of methane into the atmosphere.
Reducing methane emissions is critically important in the fight against climate change, with methane release being responsible for roughly 30% of the increase in global temperatures since the pre-industrial era1. Methane is up to 80 times more potent than carbon dioxide at trapping heat over the first 20 years after it reaches the atmosphere2 .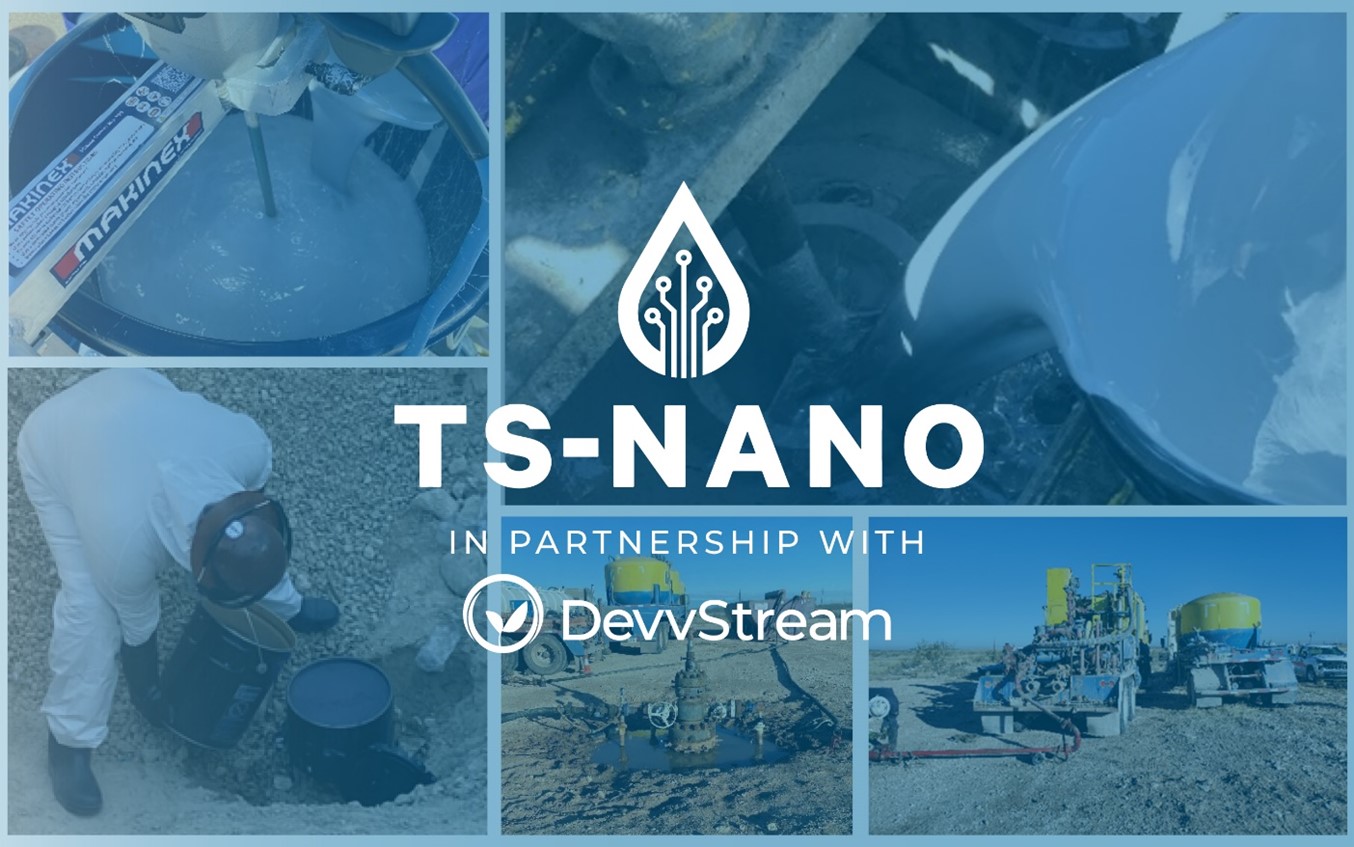 "Methane emissions are one of the most prolific contributors to climate change, and are also one of the most insidious," said Sunny Trinh, CEO of DevvStream. "Tackling the methane problem by sealing abandoned oil and gas wells is a significant challenge, but thanks to the proprietary nano-based technology developed by TS-Nano, we now have a tested, field-proven method for closing extremely thin microcracks (below 30 microns) in existing wellhead barriers. We're pleased that TS-Nano has successfully capped the first round of test wells, validating the sealant application process in real-world environments and scenarios. Once the American Carbon Registry approves the methodology surrounding quantification, monitoring, reporting and verification, we will be poised and ready to generate carbon credits that will deliver previously unrealized economic benefits for oil and gas operators while providing a valuable asset for corporations and governments in their ongoing work toward Net Zero."
As part of its continued efforts to make the Offset Program more efficient, affordable, and scalable moving forward, DevvStream has filed a second provisional patent application outlining its innovative programmatic approach to wellbore project management and carbon credit generation. Similar to the Company's provisional patent applications filed in January (as described in the Company's news release dated January 25, 2023), this provisional patent application leverages the UNFCC CDM's Program of Activities (or PoA) approach, recognized internationally, to aggregate multiple mitigation activities across multiple oil wells into a single offset project. This umbrella approach will allow the Company to aggregate multiple abandoned and orphaned wellbores together under a single offset project, resulting in several anticipated improvements in efficiency, cost, and scalability.
About TS Nano
TS-Nano is a technology and manufacturing company based in New Mexico that designs and manufacturers nano-modified polymer sealants along with the engineering to solve leaks in the most challenging conditions. TS-Nano sealants are developed with superior durability and penetration characteristics to meet the most stringent performance requirements. TS-Nano and its highly experienced management team hold numerous patents in the field of nano-technology, transportation products and polymers. For more information, please visit www.ts-nano.com.
About DevvStream
DevvStream is a technology-based ESG company that advances the development and monetization of environmental assets, with an initial focus on carbon markets. We work with governments and corporations worldwide to achieve their sustainability goals through the implementation of curated green technology projects that generate renewable energy, improve energy efficiencies, eliminate or reduce emissions, and sequester carbon directly from the air—creating carbon credits in the process. This enables us to provide non-dilutive capital directly to our clients while empowering them with field-proven, technology-based solutions to improve their climate impact quickly and simply. To address common issues such as greenwashing and double-counting, all environmental assets created through our projects are managed via a proprietary blockchain-based ESG software platform, designed explicitly to ensure transparency and auditability, with full data provenance, which significantly increases asset value.
DevvStream's business model includes mutual collaboration and partnership with Devvio (www.devv.io), a leading ESG-focused blockchain company; Global Green (www.globalgreen.org), an international nonprofit that helps governments and Fortune 100 companies meet their climate goals; Marmota (www.marmota.ca), a Canada-based JV specializing in environmental asset creation, green project management, emissions mitigation, and sustainable financing for municipal, provincial and federal governments; and United Cities North America (www.unitedcities.io), an affiliate of the United Nations with a focus on building sustainable and net-zero smart cities and communities. For more information, please visit www.devvstream.com.
On Behalf of the Board of Directors,
Sunny Trinh, CEO
For further information please contact:
Focus Communications
Tel: +1 647 689 6041
Email: info@fcir.ca
Disclaimer
This news release contains forward-looking statements, including statements that are not historical facts. All statements other than statements of historical fact included in this release are forward-looking statements. The reader is cautioned that assumptions used in the preparation of any forward-looking information may prove to be incorrect. Events or circumstances may cause actual results to differ materially from those predicted, as a result of numerous known and unknown risks, uncertainties, and other factors, many of which are beyond the control of the Company, and which are described in the Company's public filings available under its profile at www.sedar.com. The reader is cautioned not to place undue reliance on any forward-looking information. Forward-looking statements contained in this news release are expressly qualified by this cautionary statement. The forward-looking statements contained in this news release are made as of the date of this news release and the Company does not intend to update any of the included forward-looking statements except as required by Canadian securities laws.
https://www.unep.org/news-and-stories/story/methane-emissions-are-driving-climate-change-heres-how-reduce-them