Global Green and DevvStream Launch $1 Million Climate Pledge Program with Revolutionary Decarbonization Model
March 16, 2023
Celebrity-backed program is designed to reward participant companies with financial and promotional incentives while helping them meet their Net Zero emissions goals quickly using a turnkey decarbonization solution
VANCOUVER, BC, March 16th, 2023 — DevvStream Holdings Inc. ("DevvStream" or the "Company") (NEO:DESG), a leading carbon credit investment firm specializing in technology solutions, and Global Green, the American affiliate of Green Cross International (GCI), a global non-governmental organization founded by President Mikhail Gorbachev in 1993, today announced the launch of the Earth Day Pledge Program (the "Program"), a first-of-its-kind decarbonization model that offers immediate benefits to participant organizations—carbon credits, global exposure opportunities, and more—while helping them achieve their climate goals via advanced emissions-reducing technologies from DevvStream's partner ecosystem. The Program consists of four possible pledge tiers: $1 million, $500,000, $250,000 and $100,000. Each tier contains both revenue-generating and promotional incentives, including opportunities for social media amplification by Global Green's A-list celebrity supporters and advocates. The Program will culminate with a celebrity-hosted gala event held in Los Angeles, followed by a VIP reception at GCI's headquarters in Geneva, Switzerland, to honor all participant companies.
For more information, please visit www.earthdaypledge.org.
Highlights
Organizations that pledge either $1 million, $500,000, $250,000 or $100,000 will receive consultive and programmatic design services from DevvStream and Global Green to help them achieve emissions targets and social impact goals, as well as worldwide marketing opportunities and revenue-generating incentives.
The Program will culminate in a celebrity-hosted gala in Los Angeles, followed by a VIP reception at Green Cross International's headquarters in Geneva.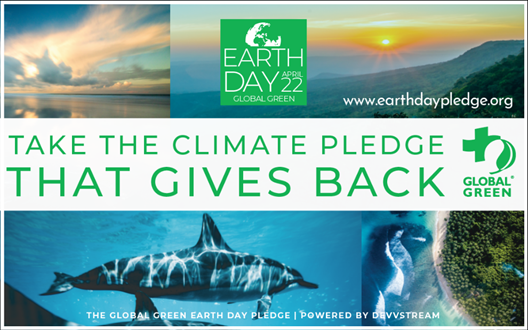 "Our Pledge Program delivers two important and unique components to the decarbonization discussion: advanced emission-reducing technologies and exciting incentives to participate," said Sunny Trinh, CEO of DevvStream. "Our partnership with Global Green, a world-renowned environmental impact organization with deep historical roots, broad reach, and a strong track record in sustainability, will ensure that the Program helps its participants make real, measurable progress toward their climate and social impact goals while rewarding them with carbon credits, tokens, and game-changing marketing opportunities."
We are excited to consider this pledge a turning point for corporate sustainability, delivering transformative solutions that create profit and competitive advantages while effectively benefiting the environment," said William Bridge, CEO of Global Green. "We must use the current worldwide momentum to bring about the profound changes needed for a truly sustainable future, reconnect humanity to the environment, and mitigate the climate emergency's extreme weather and social events. Global Green and DevvStream look forward to recognizing the tremendous achievements of organizations and corporations whose leadership will shape the activities and solutions that can change the current course of action before reaching the tipping point of the fight against climate change."
About Global Green
Global Green is the American affiliate of Green Cross International (GCI), an international non- governmental organization founded by President Gorbachev in 1993. For nearly 30 years, Global Green has served as a recognized national leader in advancing smart solutions to climate change that improve lives and protect the planet, with the mission to foster a global value shift toward a sustainable and secure future. Programmatically, Global Green works to create green cities, neighborhoods, affordable housing, and schools to protect environmental health, improve livability, create sustainable communities, and support the planet's natural systems. In service of its mission, Global Green has partnered with over 50 organizations including local and federal governments, Fortune 100 companies, academic institutions, international groups and private foundations.
About DevvStream
DevvStream is a technology-based ESG company that advances the development and monetization of environmental assets, with an initial focus on carbon markets. DevvStream works with governments and corporations worldwide to achieve their sustainability goals through the implementation of curated green technology projects that generate renewable energy, improve energy efficiencies, eliminate or reduce emissions, and sequester carbon directly from the air. DevvStream also helps these organizations meet their net zero goals by providing them access to high-quality carbon credits. For more information, please visit www.devvstream.com.
On Behalf of the Board of Directors,
Sunny Trinh, CEO
For further information please contact:
Focus Communications
Tel: +1 647 689 6041
Email: info@fcir.ca
Disclaimer
This news release contains forward-looking statements, including statements that are not historical facts. All statements other than statements of historical fact included in this release are forward-looking statements. The reader is cautioned that assumptions used in the preparation of any forward-looking information may prove to be incorrect. Events or circumstances may cause actual results to differ materially from those predicted, as a result of numerous known and unknown risks, uncertainties, and other factors, many of which are beyond the control of the Company, and which are described in the Company's public filings available under its profile at www.sedar.com. The reader is cautioned not to place undue reliance on any forward-looking information. Forward-looking statements contained in this news release are expressly qualified by this cautionary statement. The forward-looking statements contained in this news release are made as of the date of this news release and the Company does not intend to update any of the included forward-looking statements except as required by Canadian securities laws.
Resources