DevvStream Announces Exclusive Carbon Credits Management Agreement with AgriLedger
March 7, 2023
DevvStream acquires streaming rights for carbon credits generated by AgriLedger's business operations, and will provide management services for the resulting credits
VANCOUVER, BC, March 7th, 2023 — DevvStream Holdings Inc. ("DevvStream" or the "Company") (NEO: DESG) (FSE: CQ0), a leading carbon credit investment firm specializing in technology solutions, today announced an exclusive carbon credits management agreement with AgriLedger, a global advisement and consultative service specializing in carbon offset strategy, renewable energy development, and Ag-DLT value-chain optimization solutions for industrial, agricultural, and municipal clients. Under the agreement, DevvStream acquires exclusive rights and title to carbon credits resulting from projects developed by AgriLedger, and will additionally manage the creation, validation, certification, registration, storage, security and liquidation of project credits.
Highlights
DevvStream acquires exclusive carbon streaming rights
DevvStream will serve as carbon credit manager for AgriLedger's projects
In Alberta, Canada alone, over 20 million metric tons of carbon emissions reductions are the result of agriculture-based carbon credit projects
In the United States, the potential demand for agriculture carbon credits is an estimated 190 million tons per year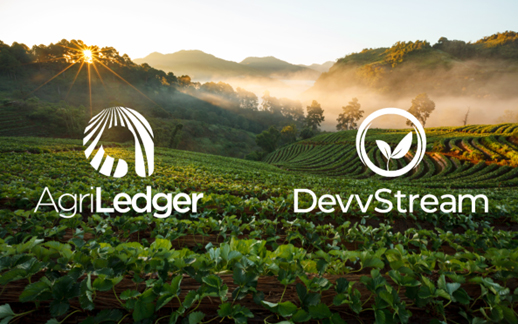 The agricultural industry as a whole accounts for significant greenhouse emissions. Studies suggest that the past 200 years of agricultural activities have resulted in over 100 billion metric tons of CO2 (GtCO2) being released into the atmosphere from the soil, more than three times as much carbon as all human activities released in 2019 (43.1 GtCO2)1. This presents a substantial opportunity for intervention via green projects and practices such as regenerative farming that have the potential to generate high-value carbon credits. As a result, the global market for agricultural carbon credits is considerable. For example, in Alberta, Canada alone, over 20 million metric tons of carbon emissions reductions are the result of agriculture-based carbon credit projects. In the United States, the potential demand for agriculture carbon credits is an estimated 190 million tons per year.
"AgriLedger is an award-winning firm with expertise in the development of World Bank-funded green projects and over 30 years of experience in energy, decarbonization, and sustainability finance," said Sunny Trinh, CEO of DevvStream. "Our partnership provides DevvStream with access to an array of world-changing projects that we can quickly leverage into high-quality, verifiable carbon credits based on transparent data."
"Our partnership with DevvStream is truly a game-changer for those developing countries which need us most," said Genevieve Leveille, Chief Executive Officer of AgriLedger. "Engaging us on their decarbonization journey now gives them access to the long-awaited carbon market finance necessary to deploy those country-wide decarbonization programs which yield the greatest environmental and socioeconomic impact for their citizens. Our key differentiator is our ability to assure transparency and provenance. We leverage our World Bank project experience in Ag-IoT and DLT driven smart-contracts to capture all our project and ESG activities immutably on the blockchain. As we see it, the latter is a valued and necessary step for mitigating project greenwashing risks for our corporate carbon offset offtakers."
"By strategically focusing on the Food-Water-Energy Nexus, we afford our clients systems-based carbon market strategies which maximize offset generation while achieving carbon portfolio diversification as well," said Tarique J Rashaud, Chief Strategy Officer of AgriLedger. "Coupled with DevvStream's transformative strategic partnership, we'll now arm our clients with the capital required to preserve CAPEX while funding their large-scale sustainability and circularity focused decarbonization projects with uncommon speed and efficiency."
About AgriLedger
AgriLedger's Food, Water & Energy Division combines Chief Strategy Officer Tarique J. Rashaud's 30 years of experience in Energy, Decarbonization Strategy, and Sustainability Finance with CEO Genevieve Leveille's 25 years of executive management and experience in leading World Bank funded Ag-DLT / value chain optimization projects and global FinTech thought-leadership. Under their strategic leadership, AgriLedger's insights provides clients unique opportunities for maximizing decarbonization, diversifying revenue streams, and delivering tangible ESG Impacts at the Food-Water-Energy Nexus. AgriLedger provides global advisement and consultative services to Industrial, Agricultural and Municipal clients on Carbon Offset Strategy, Renewable Energy Development, and Ag-DLT Value-Chain Optimization Solutions. AgriLedger is a Minority and Veteran owned enterprise. For more information, please visit: https://www.agriledger.io/
About DevvStream
DevvStream is a technology-based ESG company that advances the development and monetization of environmental assets, with an initial focus on carbon markets. DevvStream works with governments and corporations worldwide to achieve their sustainability goals through the implementation of curated green technology projects that generate renewable energy, improve energy efficiencies, eliminate or reduce emissions, and sequester carbon directly from the air. DevvStream also helps these organizations meet their net zero goals by providing them access to high-quality carbon credits.
For more information, please visit www.devvstream.com.
On Behalf of the Board of Directors,
Sunny Trinh, CEO
For further information please contact:
Focus Communications
Tel: +1 647 689 6041
Email: info@fcir.ca
Disclaimer
This news release contains forward-looking statements, including statements that are not historical facts. All statements other than statements of historical fact included in this release are forward-looking statements. The reader is cautioned that assumptions used in the preparation of any forward-looking information may prove to be incorrect. Events or circumstances may cause actual results to differ materially from those predicted, as a result of numerous known and unknown risks, uncertainties, and other factors, many of which are beyond the control of the Company, and which are described in the Company's public filings available under its profile at www.sedar.com. The reader is cautioned not to place undue reliance on any forward-looking information. Forward-looking statements contained in this news release are expressly qualified by this cautionary statement. The forward-looking statements contained in this news release are made as of the date of this news release and the Company does not intend to update any of the included forward-looking statements except as required by Canadian securities laws.
Resources