DevvStream and BC Road Builders and Heavy Construction Association Announce Offtake Agreement for Pioneering Carbon Offset Project in the Transportation Sector
VANCOUVER, BC, October 3, 2023 — DevvStream Holdings Inc. ("DevvStream" or the "Company") (CBOE: DESG) (OTCQB: DSTRF) (FSE: CQ0), a technology-based sustainability company, and the BC Road Builders and Heavy Construction Association ("BCRB") are pleased to announce a groundbreaking offtake agreement. DevvStream has committed to pre-purchasing 25,000 carbon credits generated by BCRB's green house gas reduction program, a revolutionary carbon offset project poised to make a substantial impact on global carbon emissions in the transportation sector.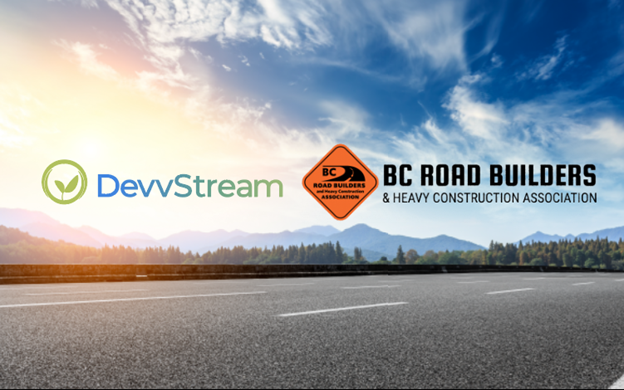 The BCRB program is a forward-thinking initiative aimed at reducing carbon emissions associated with road construction and maintenance activities, a significant contributor to the transportation sector's emissions. With transportation responsible for approximately 25 per cent of the world's energy-related emissions in 2020, this program represents a crucial step towards a more sustainable future.
Under this agreement, DevvStream will pre-purchase 25,000 carbon credits generated by BCRB's offset project during 2024 and 2025, and have a right of first refusal for any additional credits generated by BCRB. The Program is designed to enable road construction and maintenance organizations across Canada and the USA to generate carbon credits by implementing eligible activities, including electrification of fleets and upstream equipment, as well as use of low-carbon materials including asphalt. This ambitious project boasts one of the largest geographical footprints globally, covering activities that go above and beyond regulatory requirements.
Key Highlights of the Program:
Geographical Scope: The program covers eligible road construction and maintenance activities implemented in roads across Canada and the USA, making it one of the largest offset projects in the world by geographical footprint.
Verified Carbon Standard: The offset project leverages several existing Verra and CDM quantification methodologies and is expected to be registered under the Verified Carbon Standard program from Verra, a leading program authority. This certification ensures the highest standards of environmental integrity and transparency.
Independent Verification: All data will be regularly verified by an independent accredited Validation/Verification Body, providing transparency, credibility and accountability.
Above-and-Beyond Actions: Under the requirements of the program, only actions that exceed regulatory requirements are eligible to generate carbon credits, ensuring that the program makes a significant and verifiable impact on reducing carbon emissions.
The BCRB Program is set to become operational by early next year, with the first verified carbon credits expected to be delivered by late 2024. This partnership between DevvStream and BCRB represents a significant stride toward a more sustainable future, aligning with DevvStream's mission to advance sustainability through the development and monetization of environmental assets.
"We are thrilled to be part of this pioneering initiative with BCRB," said Sunny Trinh, CEO at DevvStream. "By pre-purchasing carbon credits from the BC Road Builders Program, we are not only supporting the reduction of carbon emissions but also fostering innovation in the construction and maintenance industry. This project exemplifies the kind of forward-thinking solutions needed to address the climate crisis. We look forward to developing our partnership with BCRB to expand this program to other regions beyond North America."
BCRB Vice President Matt Pitcairn expressed their enthusiasm, saying, "This partnership with DevvStream is a testament to our commitment to sustainability and innovation. We believe that our green house gas reduction Program will set a new standard for the industry while contributing significantly to global efforts to combat climate change."
This agreement marks an important milestone in the efforts to reduce emissions from the transportation sector, setting a high bar for environmental stewardship and sustainable business practices.
About BCRB
The BC Road Builders and Heavy Construction Association is a non-profit organization that represents firms in the BC road building and maintenance industry. Our 290+ member companies represent highway maintenance contractors, construction contractors, underground/utility contractors, paving contractors and the various service and supply companies in the industry. Learn more at roadbuilders.bc.ca
Our mandate is to communicate with the public and government about critical transportation issues. We are the recognized advocate for infrastructure development and a balanced, safe transportation system that sustains and promotes provincial economic growth.
We pride ourselves on bringing the industry together to find solutions to challenges through advocacy, discussion and networking so we can maximize business opportunities and celebrate our successes together.
The BC Road Builders and Heavy Construction Association was established in 1966 by twelve founding firms. In 1989, the maintenance sector joined the Association's construction and service and supply sectors in order to provide a single, unified voice for the industry.
About DevvStream
Founded in 2021, DevvStream is a technology-based sustainability company that advances the development and monetization of environmental assets, with an initial focus on carbon markets. DevvStream works with governments and corporations worldwide to achieve their sustainability goals through the implementation of curated green technology projects that generate renewable energy, improve energy efficiencies, eliminate or reduce emissions, and sequester carbon directly from the air—creating carbon credits in the process.
On September 13, 2023, DevvStream and Focus Impact Acquisition Corp. (Nasdaq: FIAC) announced that they have entered into a definitive Business Combination Agreement for a business combination that would result in the combined Company (DevvStream) to be listed on the Nasdaq Stock Market under the ticker symbol "DEVS".
Disclaimer
This news release contains forward-looking statements, including statements that are not historical facts. All statements other than statements of historical fact included in this release are forward-looking statements, including statements relating to the carbon credits expected to be generated by BCRB's offset project. The reader is cautioned that assumptions used in the preparation of any forward-looking information may prove to be incorrect. Events or circumstances may cause actual results to differ materially from those predicted, as a result of numerous known and unknown risks, uncertainties, and other factors, many of which are beyond the control of the Company, and which are described in the Company's public filings available under its profile at www.sedarplus.ca. The reader is cautioned not to place undue reliance on any forward-looking information. Forward-looking statements contained in this news release are expressly qualified by this cautionary statement. The forward-looking statements contained in this news release are made as of the date of this news release and the Company does not intend to update any of the included forward-looking statements except as required by Canadian securities laws.
On Behalf of the Board of Directors,
Sunny Trinh, CEO
DevvStream Media Contacts
DevvStream@icrinc.com and info@fcir.ca
BCRB Media Contact
Matt Pitcairn, Vice President
BC Road Builders and Heavy Construction Association
604-436-0220
Resources